BYRON BAY MINDFULNESS MEDITATION & YOGA RETREAT FOR WOMEN 2022
Friday 4th to Wednesday 9th November 2022
Now in our twelfth year, our beautifully relaxing Byron Bay mindfulness meditation and yoga retreat will give you the chance to unwind, enjoy the peace of nature, feel completely nurtured and begin to discover why living mindfully is essential to your wellbeing.
We stay at a beautiful tropical ten-acre bush retreat just a few minutes drive from Tallow Beach in Byron Bay. The property features an open, airy meditation hall, a freshwater swimming pool and dining room that includes outdoor seating with beautiful ocean views. Accommodation is in a range of creatively designed, comfortable cabins, each decorated in a unique style. It's difficult to describe the essence of this property – it's something you need to experience for yourself but previous participants have described it as 'magic' and 'organic' and many continue to return each year.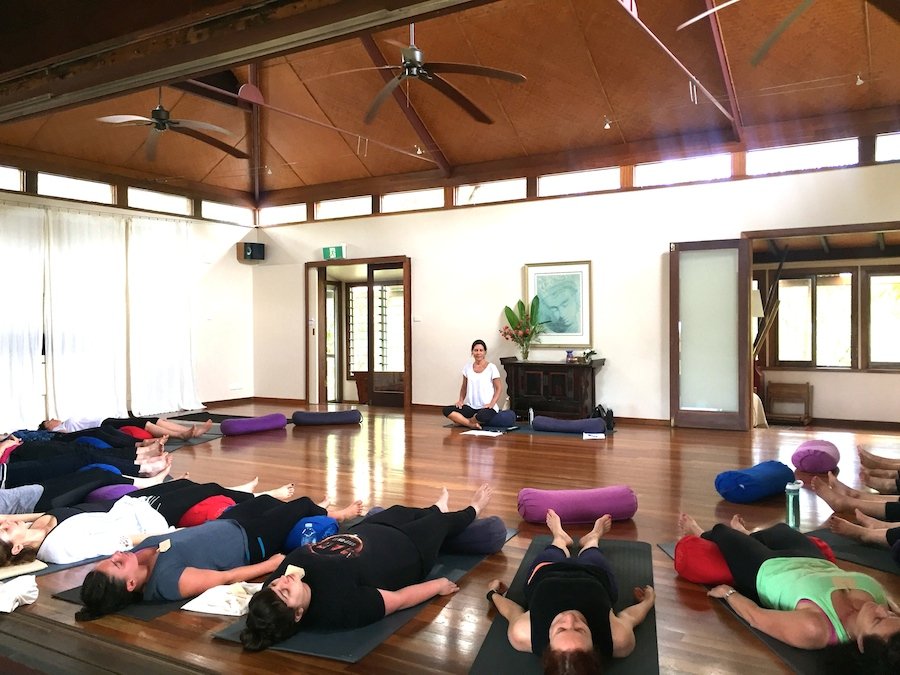 Through meditation, yoga, qi gong, time spent in silence, walking in nature, you'll have the chance to reconnect with your true spirit and completely unwind. Our retreats are well suited for those who are looking for a gentle, soulful experience.
Mindfulness meditation and yoga retreat includes:
Five nights accommodation
Delicious organic vegetarian meals
Early morning meditation
Morning yoga, qigong and walking
Daily silent time
Afternoon yoga or qigong
Guided walks to the beach and lighthouse
Evening relaxation
Optional massage treatments (not included in retreat pricing)
YOUR LEADERS
Book now (deposit $500, balance due three months prior):
Dates: Friday 4th to Wednesday 9th November 2022
Standard single with ensuite – $2,450
Single room with shared bath – $2,350
Shared room with ensuite – $2,150
Small single with ensuite – $2,150
Contact us to book

Who is this mindfulness meditation retreat for?
Our mindfulness meditation and yoga retreats are attended by women of all ages but mostly, we attract those who are looking for space, stillness and reflection. Many of our participants describe themselves as introverted so the energy of our group is always gentle and supportive. Unfortunately, we don't offer private counselling or coaching on retreat.
If you wish to share accommodation and are travelling alone, we will assist you to find a suitable room companion.
Airfares, transfers and travel insurance not included in pricing. Please read our retreat terms and conditions here.
---
What people say about our Byron Bay mindfulness meditation retreat

"Kate is not just gifted as a teacher, coach and role model for mindful living but she is also gifted in her ability to attract other gifted people to co-create a retreat that enlivens your senses and reawakens your soul." Lena
---
"I booked into the Byron Bay meditation and yoga retreat, feeling desperately in need of uninterrupted sleep and good food, burnt out from full-time work and sole care of my teenagers. I had discovered Kate's meditations through Insight Timer six months before, and thought bringing these meditations to life could only be an added bonus, on top of nourishing meals and rest. I left five days later feeling like I was just beginning to get to know myself again. Between Kate's soothing meditations and profound insights, and Catherine's gentle guidance in qigong and mindful walking, I began to feel and remember parts of me I hadn't known for 20 years. Kate and Catherine's gifts complement each other's so beautifully, that when combined with a group of women and the serene setting at Sangsurya, provide the opportunity for deep connection and healing." Jen
---
"I came to the retreat feeling pretty good but as the days progressed I realised that I had not been in touch with the 'real me' for years!! I found myself again. I feel inspired and filled with love and admiration for all of the beautiful women I touched souls with." Sandy
---
"The most nurturing, healing and energising experience I think I've ever ha.! It was truly life-changing. I feel calmer, happier, healthier and more connected than I have in years. It has given me the confidence and awareness to start listening to and following my heart. I absolutely loved everything about it – the location, the food, the beautiful group of women, the workshops, the energy, everything! Thank you so much!" Ella
---
"This retreat gave me the space to be free from judgement and to gain clarity of mind. I feel so empowered to take this authentic self back to my everyday life. It was just what my soul needed. Pushing my boundaries, stepping outside my comfort zone and confronting my internal judge. I'm trying not to promise myself too much about how I will improve my life but I'm motivated and aware of the small changes I might make to be more authentic in my every day." Tess
"This was perfect, pure bliss on every level. The content, the atmosphere, the people, connection food and acceptance and safety to be one's true self. These days are the most precious gift you can give yourself." Karen
---
"I came to the retreat simply wanting some time out and to be better at learning to be still. I leave with soooo much more. The past five days have exceeded my expectations in ways I thought was not possible. My heart is lighter and more full of joy and for the first time in a while I not only feel excited about my future but I want to jump in feet first. Thanks for reminding me just how much beauty and gratitude there is to be found in the every day and how amazingly supportive a bunch of awesome women can be. From the bottom of my heart, I thank you. I will return one day." Claire
---
"The most incredible five days of my life – I feel so light and still, a bit like I could conquer anything! I just hope I can maintain this back in the hustle of Melbourne life. Thank you so much." Andrea
"I feel nurtured, rejuvenated and transformed. I wouldn't change a thing. I have not felt so light, so courageous, so invigorated for years. I can't wait to attend again." Cathy
---
"Words cannot do justice. The most amazing meditation retreat I have ever been to. I feel like it will change my life. Five days of perfect bliss, growth, nurturing, connections, nature, music and food. Heaven!! Please book me up for the next 50 years!" Kelly
---
"Absolutely magical! I feel like all of my senses have been nourished and reawakened." Bec
---
"Not only was the retreat setting so breathtaking, relaxing and peaceful but Kate and Catherine have the most nurturing, kind and welcoming nature. Powerful and thought-provoking, the week was the perfect balance of rest, self-reflection and personal growth and development. Thank you." Nicky
---