BYRON BAY MEDITATION & MINDFUL MOVEMENT RETREAT FOR WOMEN
Friday 16 November to Wednesday 21 November 2018 (fully booked – waitlist only)
Friday 22 March to Wednesday 27 March 2019 (8 places remaining)
Limited to 16 guests 
Now in our tenth year, our beautifully relaxing Byron Bay meditation and mindful movement retreat will give you the chance to unwind, enjoy the peace of nature, feel completely nurtured and begin to discover why living mindfully is essential to your wellbeing.
We stay at Sangsurya Retreat, a beautiful ten acre bush retreat just a few minutes drive from Byron Bay and its stunning beaches. The property features an open, airy meditation hall, a freshwater swimming pool and dining room that includes outdoor seating with beautiful ocean views. Accommodation is in a range of creatively designed, comfortable cabins, each decorated in a unique style. It's difficult to describe the essence of this property – it's something you need to experience for yourself but previous participants have described it as 'magic' and many continue to return each year.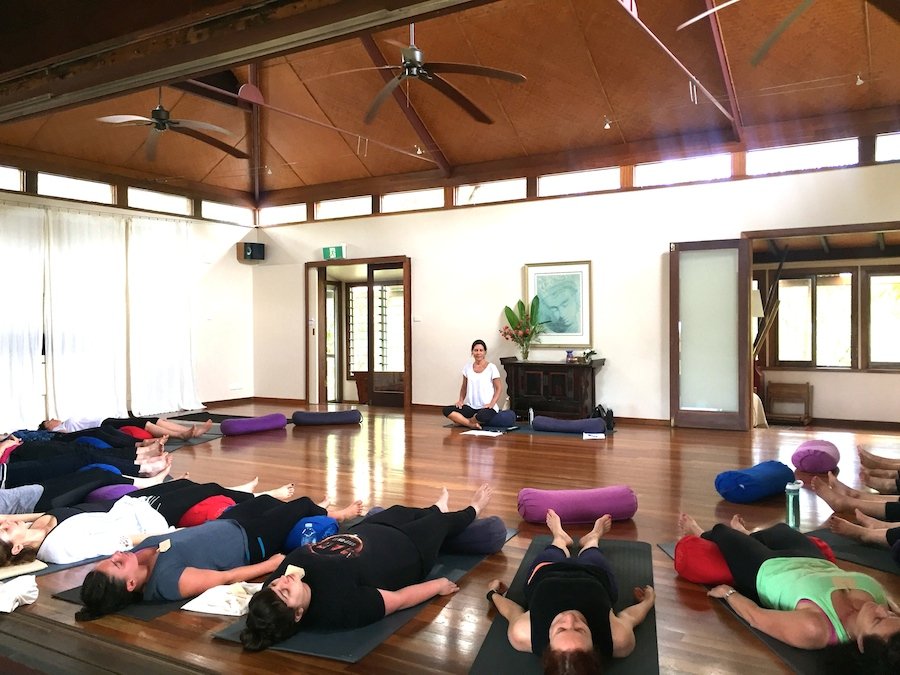 Through meditation, yoga, qi gong, walking in nature and workshops, you'll have the chance to reconnect with your true spirit and completely unwind.
Retreat includes:
Five nights accommodation at Sangsurya Retreat
Delicious organic meals
Early morning meditation
Morning movement session (yoga, qigong, walking)
Living mindfully workshops
Afternoon session (various including yin yoga, yoga nidra, guided meditation)
Guided walks to the beach and lighthouse
Evening relaxation
Optional massage and healing treatments (not included in retreat pricing)
YOUR LEADERS
Retreat fees 2019
Single room with ensuite: $2,450 AUD (1 available)
Single room main house (shared bathroom): $2,350 AUD (fully booked)
Shared room standard: $2,150 AUD (4 places available)
Small single room with ensuite: $2,150 AUD (1 place available)
Make your booking
BOOK YOUR PLACE

»
Who is this retreat for?
Our meditation and mindful movement retreats are attended by women of all ages.
Please note if you wish to share accommodation and are travelling alone, we will assist you to find a suitable room companion.
Airfares, transfers and travel insurance not included in pricing. Please read our retreat terms and conditions here.
---
What people say

"I came to the retreat feeling pretty good but as the days progressed I realised that I had not been in touch with the 'real me' for years!! I found myself again! I feel joyous, inspired and filled with love and admiration for all of the beautiful women I touched souls with."
---
"The most nurturing, healing, uplifting, energising and joyful experience I think I've ever had! It was truly life changing. I feel calmer, happier, healthier and more connected than I have in years. It has given me the confidence and awareness to start listening to and following my heart. I absolutely loved everything about it – the location, the food, the beautiful group of women, the workshops, the energy, everything! Thank you so much!"
---
"This retreat gave me the space to be free from judgement and to gain clarity of mind. I feel so empowered to take this authentic self back to my every day life. It was just what my soul needed. Pushing my boundaries, stepping outside my comfort zone and confronting my internal judge. I'm trying not to promise myself too much about how I will improve my life but I'm motivated and aware of the small changes I might make to be more authentic in my every day."
"This was perfect, pure bliss on every level. The content, the atmosphere, the people, connection food and acceptance and safety to be one's true self. These days are the most precious gift you can give yourself."
---
"I came to the retreat simply wanting some time out and to be better at learning to be still. I leave with soooo much more. The past five days have exceeded my expectations in ways I thought was not possible. My heart is lighter and more full of joy and for the first time in a while I not only feel excited about my future but I want to jump in feet first. Thanks for reminding me just how much joy, beauty and laugher there is to be found in the everyday and how amazingly powerful a bunch of awesome women can be. From the bottom of my heart, I thank you. I will return one day. Much love, Claire."
---
"The most incredible five days of my life – I feel so light and still, a bit like I could conquer anything! I just hope I can maintain this back in the hustle of Melbourne life. Thank you so much."
"I feel nurtured, rejuvenated and transformed. I wouldn't change a thing. I have not felt so light, so courageous, so invigorated for years. I can't wait to attend again."
---
"Words cannot do justice. The most amazing retreat I have ever been to. I feel like it will change my life. Five days of perfect bliss, growth, nurturing, connections, nature, music and food. Heaven!! Please book me up for the next 50 years!"
---
"Absolutely magical! I feel like all of my senses have been nourished and reawakened."
---
"Energising, informative, fun, loved the meditation, the lovely women and the chilled out attitude."