Leah and I met when she came to see me to talk about her snow globes business. Within moments of meeting her, I had the sense that she's someone who will make a go of anything she sets her mind to. Full of energy and vibrant, Leah's passion for her business is infectious.
After our session, Leah sent me a link to the video of her sister's surprise baby shower (you'll read about this below) and I thought we could all take a little bit of inspiration from her positive 'anything's possible' approach to life. Make sure you watch the video – it's just gorgeous.
I think you'll love learning a bit about Leah and her very original business idea.
Can you tell us a little bit about your business?
I make custom snow globes, including single pieces and quantities for corporate gifts, wedding favours and all sorts of occasions. After a long and fruitless search to find the NYC snow globe that featured in an episode of Sex And The City, I decided to try my hand at making one instead, and was hooked from that moment on – that was in 2011. In January 2014, I decided to launch my own snow globe making business, and since then I've been blessed to make more than 600 custom snow globes for 40+ clients, including a Welsh documentary, Craig Ferguson's final "Late Late Show" and an exciting job currently in progress for a Hollywood A-list movie (unfortunately I'm sworn to secrecy on that one at the moment!)
What do you love about your working for yourself?
Well, right now that's my ultimate goal – I'm not quite there yet and I'm still working a full time job to pay the bills! I know for me it's all about freedom of choice – to know that every day stretches out before me with the absolute luxury of working entirely on my own business. Whenever I get a chance to take a day just for me, there is this incredibly delicious feeling of freedom and inspiration – it's my greatest treat to get to do my work.
What's one thing you would do differently if you had your time over?
I hope it doesn't sound pretentious, but there is actually nothing I would do differently, because I feel like everything I've learned has led me to this point of actually having a business that's going somewhere. My initial response is to wish that I'd started my business earlier, but the reality is that it would not have been possible – because of technology, my knowledge and experience and even just learning what it is I don't want to do. At the age of 45, this is my third real effort at running my own business (I started my first business at the age of 23) and it's genuinely the first one that really feels right. I needed those previous experiences to know that. I needed to work for the big Japanese corporate to learn how to analyse figures in detail. I needed to learn resilience by being made redundant when another company I worked for went into receivership.  And I needed to make the mistake of investing in a business idea that I thought I would love, but that ultimately I realised was what my husband would love. Not me. But it all led me here, right now.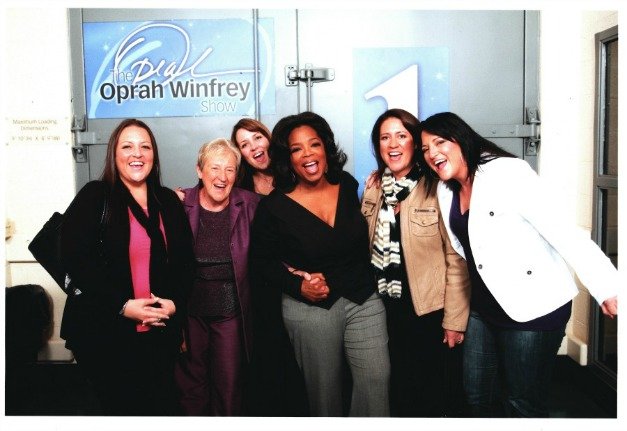 Who are your role models?
My greatest role model is Oprah Winfrey. Her generosity, humour and authenticity are at the heart of her success. I have been extremely fortunate to meet her on two occasions – the first time was when she threw a surprise baby shower for my sister Catherine, who was pregnant and unable to get to Sydney to see the shows during Oprah's Australian tour in December 2010. Catherine is a huge fan – when she realised the timing would not work (she was due to give birth the day before Oprah's taping), she was devastated. My younger sisters and I wrote to the show, unbeknownst to Catherine, letting them know about her situation. Together the plan was hatched to host a surprise baby shower. What struck me most was Oprah's absolute "realness" – she was there in mind, body and spirit and was genuinely into talking with us and being in the moment. She also invited us to travel to Chicago to see the show being taped before it finished in May 2011 – all four sisters went, with our mum Heather, and Oprah paid for everything while we were there.
She is my greatest role model because of her humility and authenticity, despite her massive success. She keeps it real, and I love her for that.
What are you listening to at the moment?
I'm a podcast freak – I spend all my driving time listening to podcasts – it's the ultimate learning opportunity! My top recommendations are:
Pat Flynn's Smart Passive Income – Almost everything I know about online business I learned from listening to Pat's podcasts.
The Fizzle Show – Really funny guys with pearls of wisdom and a focus on integrity.
The Prosperity Show – Joan Sotkin is in her mid 70's and makes one of the best podcasts about money and how your emotions affect your bank balance.
TED Radio Hour/Radio Lab/The Moth – these are my non business go to's – if I feel like learning something new that's not about business then I'll listen to either TED or Radio Lab, but if I just feel like hearing an inspiring story then it's The Moth.
What's one piece of advice you'd offer to someone wanting to go into their own startup?
The thing that's had the biggest impact on my business was knowing that my niche could actually rank in Google, before I even started the business. I invested the huge sum of about $40 USD in a program called "Long Tail Pro" and I learned how to read the metrics – it's like the Google keyword tool but with more information and better analysis. So when I started my business, I knew that I had a decent chance of ranking in Google for the term "snow globes". I'm still working on getting results for that, but the entire success of my business is based on the fact that I reached page 1 of Google for the even more niche term "custom snow globes" very quickly. There is a bit of a formula around it, and I don't mean to put anyone off doing something they're passionate about just because they think they may not rank well in Google. But I do know that without that clarity, I would not be where I am now. I guess what I'm saying is that foundation is everything – learn everything you can about the market, technology and your competition before you take that leap. It could save you a lot of time and money.
Photo credits. Main head shot: Kym Griffiths
Snow globes: Phil Rochford http://flicker.com/philrochford