Catherine and I first met over Skype when she was living in Switzerland. At the time, we were exploring her options for career change.
When she visited Melbourne the following summer, we met for coffee at St Edmonds on a sunny December morning. Catherine had just been for a run and she had a beautiful glow of health about her but what I remember most from that meeting is how readily she laughed – and what a lovely sound her laughter was.
We have worked together for several years now in various different capacities. I have called on Catherine to help me in my business when I've been busy and I have supported her in setting up her own small business, The Wellbeing Corner. These days, Catherine runs meditation classes and mindful hiking days for women (which are hugely popular).
It's an honour to feature her on the blog today. I know you'll find her as humble and inspiring as I do. She's one very special human being.
Can you tell us a little bit about your business?
Meditation and spending time in nature are both essential to my wellbeing. I couldn't imagine life without either of them. I wanted to provide practical and accessible ways of learning meditation and mindfulness techniques, whether in a class or out in nature.
The Wellbeing Corner runs 6-week beginner meditation courses as well as 'Mindful Hiking Days' for women. While meditation and mindfulness have become widely accepted (which I think is fantastic) learning to meditate is not always easy and it can be hard to know where and how to begin. I aim to introduce meditation in a way that is gentle, practical, accessible and fun, as well as inspire people to spend more time in nature. There really are so many places of incredible natural beauty on our doorstep just waiting to be explored.
What do you love about your working for yourself?
I love the flexibility and variety it gives me. I love that I get to decide what I do and when, as well as the fact that there are no rules! Occasionally this can feel a little overwhelming but mostly it's really fun and exciting. I also love that I'm doing something I really believe in and am passionate about.
What does a typical day look like for you?
I tend not to have a typical day. The one constant, however, is my morning meditation practice, which I do first thing upon waking. After breakfast, I usually treat myself to a coffee at my local café where I'll plan out my day. Some days I'll be reading, researching and writing course content, blog posts, newsletters etc. and others I'll be out in nature researching a potential hike. Then there are the days when I'm running a Mindful Hiking Day and the evenings when I run my meditation course.
What's one thing you would do differently if you had your time over?
That's a tricky one! I want to say I'd do lots of things differently but also that I wouldn't change a thing. Can I have it both ways? It probably sounds a bit clichéd but everything I've done, including the mistakes I've made, has made me the person I am today and I like to think that I've learned something from each and every experience along the way. I will admit, however, that I've had to learn the same thing over and over a few times!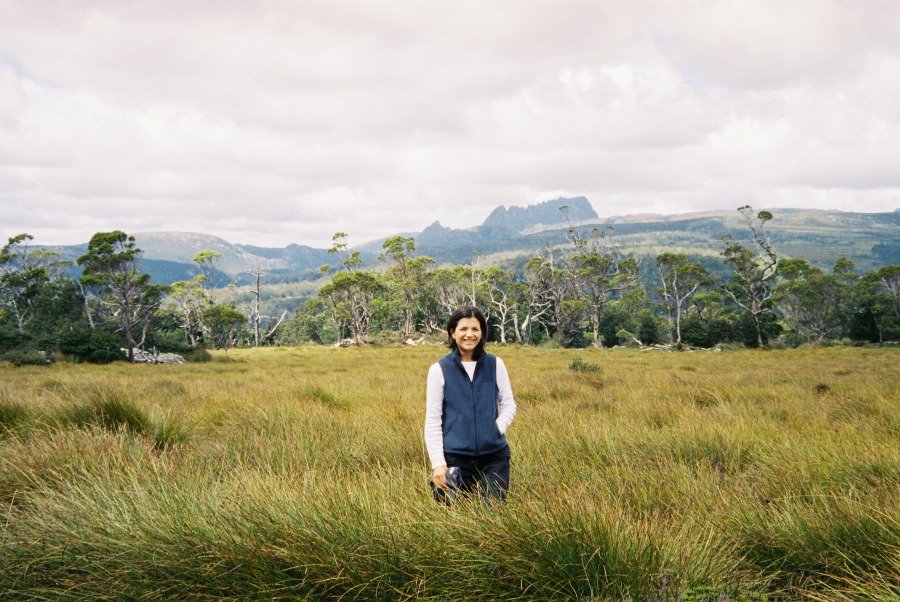 Who are your role models?
You, Kate, are definitely one of my role models. I admire the passion you have for your work, your willingness to put yourself out there in the world in such an authentic way, and how kind and caring you are. I'm inspired by so many people but other role models that come immediately to mind include Ian and Ruth Gawler, Brene Brown and Roger Federer who, in my opinion, also share many of these same qualities – authenticity, determination, self-discipline, absolute belief in, and passion, for what they do, courage and kindness. I'm also always inspired by women, especially older women (my mother is one), who, in spite of life's challenges, remain open-minded and curious about the world and who have an adventurous spirit.
What's been the best thing you've done to grow your business?
I'm not sure I can name one particular thing. I consider myself a classic introvert so traditional marketing is not comfortable for me. I've tried to find ways of putting myself out there that feel true to me. I try to make my meditation courses and Mindful Hiking Days the best I possibly can in the hope that people love them and recommend them to others. I will probably need to think beyond this at some point but for now it seems to be working. Connecting with like-minded business owners and doing guest blog posts and other similar exchanges has also been extremely helpful.
How did coaching help you?
Coaching helped me enormously. I can honestly say there is absolutely no way I would have started The Wellbeing Corner without it! It helped me break down pre-conceived ideas and barriers I'd subconsciously constructed that were holding me back and gave me the confidence to take that first step and then keep going.
Where do you go for inspiration?
I find inspiration everywhere – nature, books, art, radio, blogs (Brain Pickings), Ted Talks, magazines (Dumbo Feather, Peppermint), family and friends.
What are you reading at the moment?
A little while ago I noticed that since starting my business I'd been reading fewer novels and I love reading novels! I've been getting back into fiction lately and have just finished Haruki Murakami's latest novel 'Colourless Tsukuru Tazaki and His Years of Pilgrimage', which I loved.
How do you maintain a sense of balance while running your business?
I think this is something I need to get better at. Because I love what I do I find that it can be hard to switch off. On the days I'm working at the computer, I find setting a time to stop work and take a break to do something physically active such as go for a run, swim or yoga really helpful.
What are you looking forward to?
I'm really looking forward to seeing how The Wellbeing Corner changes and evolves over the coming years!
What's one piece of advice you'd offer to someone wanting to go into their own startup?
There is no one right way. Keep checking in with what feels right for you and do that. Also, you don't have to buy into a definition of success that is based on profit alone. For me, a successful business is as much about the contribution it makes and how it makes people feel.
What is the change that you'd like to make in the world?
To support people cultivate loving and supportive relationships with themselves.