Liz Bull from Lizzy C Photography is a professional headshot photographer. She and I met almost fifteen years ago when I was working in the city and she had not long started her first business. At the time, she was the youngest business owner I knew – and already one of the most successful.
A year or so later, Liz joined me when I organised a regular Friday lunch for creative businesswomen. It wasn't long before we realised we have many interests and loves in common (photography and art, spending time in nature, reading, baking, gardening, Wheeler's Centre events, the Hot Springs and great Asian food!). We have since become good friends.
As well as being a great friend, Liz is not a brilliant headshot photographer and a savvy and adaptable businesswoman. She now has three businesses on the go and during COVID, she and her partner, Jason purchased and renovated a property in the high country. They are keen snowboarders and travellers and they now share their beautiful home with others who want an escape to the mountains.
Liz was the first participant in my interview series but I thought it might be time to re-introduce her. Here's a recent update.
Can you tell us a little bit about your professional headshot photographer business?
I've been a professional headshot photographer for many years. I photograph business people and corporate professionals for business and snowy and urban landscapes for pleasure. I am a strange creative in that I struggle to create for creative sake and love the business side of things. Therefore I have a few things on the go. (See below!)
I specialise in photographing professionals in a natural, personable and authentic way. Individuals through www.lizzyc.com.au and organisations through www.commercialfocus.com.au.
I also represent Australian photographers and sell their beautiful print work through www.onefineprint.com.au which works closely with individuals and interior designers to get unique, bold Australian photography on to people's walls.
And just recently I've purchased and prepared a home in the Victorian high country for holiday home rental.
https://www.ouralpinehome.com.au/
https://www.instagram.com/our.alpine.home/
We're doing this interview in the midst of stage four lockdown in Victoria. How have you managed this challenging time?
This interview is being done after stage 4 lockdown as it took me so long to get to it. I struggled to feel motivated to do anything remotely related to my businesses during stage 4 lockdown other than the bare essentials.
Just prior to the second wave in Melbourne, I purchased a country home and took what I coined a " long service leave" break when the capacity for me to work due to lockdown came into play. Instead of working as a professional headshot photographer, I worked on the garden, renovating the house and in the kitchen making delicious food. Essentially, I prepared the house to become what is now a holiday home rental and experimented with other creative pursuits such as making, painting, drawing and cooking.  I feel really fortunate to have this had this opportunity.
What do you love about working as a professional headshot photographer?
Freedom and flexibility. The freedom to choose the kind of work I do and the clients I work with. Flexibility in the hours I work and the ability to fit work around my lifestyle.
And what are you missing the most at the moment?
During Stage 4, I missed time with family and friends the most.
What does a typical day look like for you? (if there is such a thing!)
I wake up pretty early as I go to the gym at 6am. After that, I really enjoy coming home and having a morning coffee and some toast while I watch the morning news. I usually try to get to work at the studio between 8:30-9:30am. I'm either shooting in the studio or on location. Otherwise, I am in the office doing the administration involved in running my businesses. I usually knock off around 4pm. I usually try and take Fridays off in which we either go away for the weekend or I do something I like to do for leisure.
Can you tell us a bit about what gives you a sense of purpose – in business and in life?
Meaningful relationships with my partner, family and friends, making clients happy, travel and time in the outdoors, helping people and being a part of the community.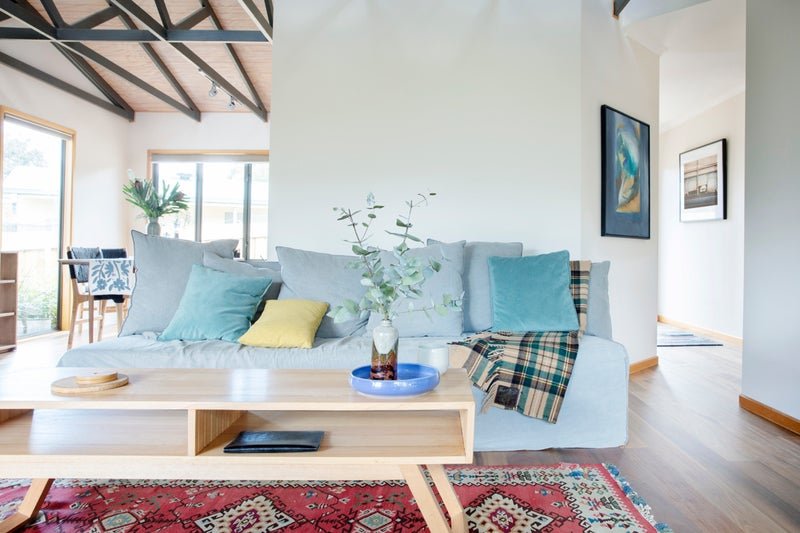 Image: Our Alpine Home, Tawonga
Where do you go for inspiration, creative or otherwise?
This is probably going to sound cliche but I feel my most creative in the mountains. Much of my own creative work showcased through my One Fine Print platform is drawn from the mountains and surrounding areas.
It's the place where I feel calm and can actually slow down and feel at peace  (I tend to go at a million miles an hour otherwise).
What are you reading/ listening to/cooking at the moment?
Listening:
Thanks a Million with Angela Scanlon
I came across this one when I was struggling a bit during Covid lockdown. Angela interviews people along the theme of gratefulness. It's a lovely reminder to be thankful for what we have and she has a wicked Irish accent that makes for pleasurable listening.
Life on the Outside
A really insightful interview series with long-term former inmates who have spent decades incarcerated and their transition to re-entry into society.
Cooking: One of the positives that came from Covid lockdown was the amount of time I had to spend on cooking more complex recipes. In my busy day-to-day life, I'd usually throw together a stir fry or a simple pasta but in my Covid life I had time to bread and scones and make vegan ramen from scratch.
What's one piece of advice you'd offer to someone wanting to go into their own business?
Do it, you'll never look back!
What's the change you'd love to make in the world?
I used to have grand ideas about wanting to make a huge impact on the world. You know something to be remembered by that would be my accolade.
But actually, I realised that for me making what may be considered many small impacts can make a big impact on a person's life and provide great joy and fulfillment for all involved. I do this in the volunteer work I do with individuals in areas I feel passionate about. Particularly helping people with disabilities and refugees in Australia.
That being said, I would also like to have played a role in elevating local Australian photographic talent through my business One Fine Print.